Having worked at the Stroke Centre at Nishijima Hospital in Shizuoka Prefecture for seven years, Kazuhiro came to Vietnam in March 2017 to volunteer at the Thanh Hoa Nursing - Rehabilitation Central Hospital through a volunteer programme run by the Japanese International Cooperation Agency (JICA).
Working at the Department of Clinical - Rehabilitation, the 29-year-old is helping patients with brain injuries to restore their functional ability.
Kazuhiro first became interested in working overseas during a trip to Cambodia, where he saw the first-aid methods used in road accidents there - and saw many people with disabilities living on the streets.
"I wanted to know more about the medical sectors and rehabilitation methods in developing countries," he said.
Kazuhiro's daily job involves instructing patients with physical exercises to recover their functional ability and daily living activities, and tracking their improvement.
As most Vietnamese use motorbikes, the number of patients suffering from paralysis as the result of brain injuries from road accidents in Vietnam is relatively higher than in Japan, he said.
There is a big difference in the rehabilitation processes of the two countries, he added.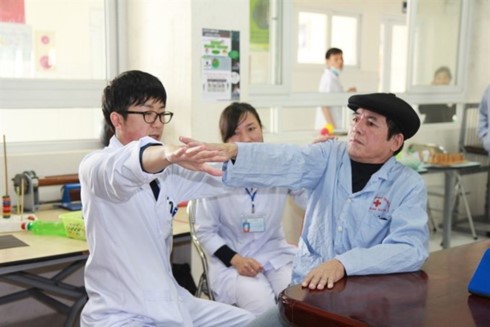 "Rehabilitation methods in Vietnam are limited to muscle massaging and joint exercises," he said. "A lot of patients are not able to return to work, and have to return to the hospital several times for further treatment," he said.
"In Japan we aim to help patients take care of themselves and get back to a normal life," he said.
Language is the biggest obstacle for Kazuhiro as he can speak only a little Vietnamese. "Work never exhausts me, but sometimes I feel helpless as I can't explain to my patients exactly what I want them to do," he said.
But his patients understand him fine. Trinh Thu Hang, 13, who suffers from hemiplegia after a road accident a month ago, said Iizuka was "very friendly and thoughtful". (Hemiplegia is a condition that affects one side of the body. It is caused by injury to parts of the brain that control movements of the limbs, trunk, face).
"He instructed me carefully with the exercises, and never lost his patience," she said.
Kazuhiro's presence also helps to reduce pressure on the rehabilitation department, whose patients range from 20 to 40 but has only two nurses and no physical therapist.
He introduced the department to the Brunnstrom Approach which sets out a sequence of stages of recovery from hemiplegia after a stroke, and the Barthel scale, which is a scale used to measure performance in activities of daily living.
"We rate patients' improvements based on those scales," said Cao Thi Hien, a department nurse. "They help us evaluate their levels of recovery in a more precise manner. From this, we can set clearer exercise objectives and plans for them."
Apart from modern equipment, lying around the rehabilitation room are simple hand-exercise tools, some of them made by Kazuhiro from everyday items such as bottle caps, coat hangers and carton boxes.
He first attempted to make the tools after he was overcharged by providers of medical equipment.
"They charged me VND1-VND2 million (US$44-US$88) for simple hand-exercise equipment," he said. "So I tried to make a simplified version of it, which cost only VND100,000," he said.
Tong Van Truyen, an orthopaedic technician, said the tools were "actually very practical and creative."
"They received positive feedback from several patients," he said.
As a volunteer, Kazuhiro stays at a staff accommodation block inside the hospital. Outside work, he likes hanging out with his co-workers, who invite him to dinner a lot, he said.
"I even had a beer with my patients once," he said.
The Japanese volunteer has no plans when his volunteer period ends in March next year, but working overseas is still on his wish-list.
"If that's not possible, I would like to return to work at Nishijima Hospital to share what I have learned in Vietnam," he said.